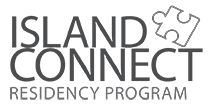 NEWS
Our last Island Connect 2021 group is formed by Chrissie and Beverly, a professional dancer, aerialist and rollerskater and a dancer and circus artist based in Ireland. They will be exploring with the cyr wheel, aerial hoop film and a long rope duet during their work in progress.
They will be exploring weight, restriction and balance with the wheel. Creating a duet but also finding ways to dance together and what happens when we aren't in sync. The Aerial Hoop inspires a clash of skin, textile and metal. Fighting against fabric and yarn in the struggle to create beauty on a ring of steel. A visually beautiful circus film, rich in texture, moving between light, beauty, strength and dark, ugly struggle. Finally, the long rope duet mean for the artists separation. They want to revisit the apparatus without pinning a narrative on it.
Beverley Grant is a dancer and circus artist based in Edinburgh, she trained at Rambert School of Ballet and Contemporary Dance in London. Since graduating she has performed nationally and internationally with multiple dance, opera and aerial companies. In 2015 Beverley was awarded a BBC Performing Arts Fellowship in collaboration with Dance Base. She is currently performing regularly with All or Nothing Aerial Dance Theatre (AoN), Fidget Feet, Aerial Cirque and Wired Aerial Theatre.
Chrissie Ardill is addicted to exploring and creating with movement. With a degree in dance and over a decade of professional performance experience, she has worked extensively with performance companies, from Glasgow to Ireland and Skegness to Puerto Rico. Chrissie works in the air, on the floor and on any structure around, creating dynamic and original performances as well as teaching people of all backgrounds and abilities. She also works extensively for camera, having choreographed and/or performed in 12 music videos and counting.
2021 Residencies Announced
25th January 2021
The Creative EU-funded project ISLAND CONNECT will support 8 Performing Arts projects from Croatia, Denmark, Ireland, Greece and Spain in 2021. This support will be dispersed via granting residencies and a "SpringLab" in Limerick including different Capacity Building Workshops. ISLAND CONNECT's goal is to support and assist artistic creation and the mobility of artists. The 2021 call for residencies received 81 applications.
The 8 selected companies are:
Kathleen Doherty and Alexandre Duarte

(IR) – residency at BIRCA (Bornholm, Denmark)

Christopher McAuley and Emmen Donnelly

(IR) – residency in Cres (Croatia)

The Amazing other (DK) – residency in IACC (Limerick, Ireland)

Eirini Tiniakou and Zoi Mastrotheodorou

(GR) – residency at BIRCA (Bornholm, Denmark)

Konstantinos Pavlidis (GR) – residency at C.IN.E. Sineu (Majorca, Spain)

Nikolina Komljenović and Irma Unusic

(CR)– residency at C.IN.E. Sineu, (Majorca, Spain)

teatreBLAU (SP) – residency in Cres (Croatia)
La ContraPiel Teatro (SP) – residency in Naxos (Greece)
The 8 companies will develop their projects during a 2-weeks residency in their own country and a second 2-weeks residency in the partner country, fights & coaching/mentorship included. The supported artists distinguish themselves by the richness and originality of their artistic approaches, as well as their aim to experiment.
Furthermore, the program will support this year 2 more projects in the framework of the Islander Focus productions, aimed at more established artists that have already been researching specificities of the insularity conditions. In 2021, a Danish company will travel to Majorca and Greece and a Croatian company will create in Ireland and Denmark. Both will benefit from and a final presentation of their work abroad.
The ISLAND CONNECT program not only supports new emerging companies of the 5 countries, but it also encourages artists' interaction with the island area and community. Specific community members are contacted to spend a day with the artist on an island field-trip exchanging experiences, practices and reflections. Other public activities are artists' work-in-progress presentations organised at the end of each residency and presentations of finished works of selected artistic companies in partners festivals. All presentations are followed by an artist-audience feedback session.
Download the press release PDF here.