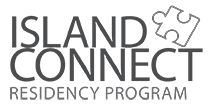 NEWS
Zoi Mastrotheodou and Eirini Tiniakou create a performance by engaging in observation and research of the natural and social landscape of Bornholm and Naxos islands. They collect organic materials and relics of human activity that construct an entity of life and death. The entity embodies the falling, the violence, the ludicrousness and a neο-primitiveness. Remnants of the performance can be either picked up or renounced by the participator-viewer.
Eirini Tiniakou (Athens,1993), holds a BFA from the Athens School of Fine Arts (2018) and an MFA from the University of Applied Arts Vienna- Department of Art & Science (2021). Previously, she participated in the workshop "Disappearance" with Omer Fast and Heike Schuppelious and worked as a performer in documenta14 for Ibrahim Mahama. During her postgraduate studies she developed a project with CERN and presented a collective show at the Venice Biennale Sessions (2019). Her practice entails photography, text, and costume-hybrids with a focus on tradition and manual work in the rural and urban environment.
Zoi Mastrotheodorou (Athens, 1993), graduated from the Greek National School of Dance (KSOT) in 2019. During her studies, she collaborated with choreographers such as Anton Lachky, Yannis Mandafounis and Markella Manoliadi on performances in Megaron Athens Concert Hall and in Athens and Epidaurus Festival. In November 2019 she participated as a performer in Athens Digital Arts Festival with the work SYMBIOSIS by Eleni Xynogala. In January 2020 she was a resident of Fire in Kinono Arts Gathering in collaboration with Areti Athanasopoulou. Coming across various techniques, her interests and her artistic research focus on performance, the body in nature, comicality of the dancing body and acrobatics.
The two artists began their collaboration in 2019 on the occasion of a trip to Tinos, where they decided to explore the land and learn from the environment and its residents, thus placing their practices in critical discourse. Their research is based on body performativity and found materials and their work is shaped by the geopolitical landscape that surrounds them during each interaction. With Island Connect (2021) they have the opportunity to present a collective work for the first time.
2021 Residencies Announced
25th January 2021
The Creative EU-funded project ISLAND CONNECT will support 8 Performing Arts projects from Croatia, Denmark, Ireland, Greece and Spain in 2021. This support will be dispersed via granting residencies and a "SpringLab" in Limerick including different Capacity Building Workshops. ISLAND CONNECT's goal is to support and assist artistic creation and the mobility of artists. The 2021 call for residencies received 81 applications.
The 8 selected companies are:
Kathleen Doherty and Alexandre Duarte

(IR) – residency at BIRCA (Bornholm, Denmark)

Christopher McAuley and Emmen Donnelly

(IR) – residency in Cres (Croatia)

The Amazing other (DK) – residency in IACC (Limerick, Ireland)

Eirini Tiniakou and Zoi Mastrotheodorou

(GR) – residency at BIRCA (Bornholm, Denmark)

Konstantinos Pavlidis (GR) – residency at C.IN.E. Sineu (Majorca, Spain)

Nikolina Komljenović and Irma Unusic

(CR)– residency at C.IN.E. Sineu, (Majorca, Spain)

teatreBLAU (SP) – residency in Cres (Croatia)
La ContraPiel Teatro (SP) – residency in Naxos (Greece)
The 8 companies will develop their projects during a 2-weeks residency in their own country and a second 2-weeks residency in the partner country, fights & coaching/mentorship included. The supported artists distinguish themselves by the richness and originality of their artistic approaches, as well as their aim to experiment.
Furthermore, the program will support this year 2 more projects in the framework of the Islander Focus productions, aimed at more established artists that have already been researching specificities of the insularity conditions. In 2021, a Danish company will travel to Majorca and Greece and a Croatian company will create in Ireland and Denmark. Both will benefit from and a final presentation of their work abroad.
The ISLAND CONNECT program not only supports new emerging companies of the 5 countries, but it also encourages artists' interaction with the island area and community. Specific community members are contacted to spend a day with the artist on an island field-trip exchanging experiences, practices and reflections. Other public activities are artists' work-in-progress presentations organised at the end of each residency and presentations of finished works of selected artistic companies in partners festivals. All presentations are followed by an artist-audience feedback session.
Download the press release PDF here.