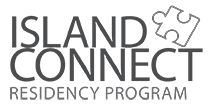 NEWS
Something was pushing to breathe, to take shape. Occasioned by a song. "Antonis the boatman" by M. Vamvakaris. A ceremony set up with the aim of initiating the human, whose nature is male, into nature, which is female. A female figure who tries to reconstruct her memory, recomposing the song. Carmen who sings / Mora who remembers. Always having as vehicle the theatrical act, the group attempts to envision a transformation that will take place in the present time, though the final form remains a secret to us. We are, however, invited to unite the moment of the transformation's conception with the moment of its first breath. Techniques used by the group in the past, are enriched, deepened and lead them to new ones, which are yet to be explored.
Konstantinos Pavlidis is a mixed media artist, graduate of the School of Fine Arts of the University of Thessaloniki, who has exhibited his work at the international centre GLO'ART in Belgium. He mainly focuses on performance and installations, while in sculpture he engages with soft materials, such as wood, creating compositions with abstract tendencies.
Andreas Konstantinou studied Social Work in Crete and graduated from the National Theatre of Greece Drama School. He works as an actor, performer and musician in Greece and abroad (Germany, France, Luxemburg, Spain, Poland, Cyprus, Iran, India). He is the founder of the artistic group θΘ (thetaTHETA).
Costis Kontos is an electronic music composer and sound designer with a PhD in Music Composition from the University of Birmingham (UK). In addition to his personal work, he has participated in various theatrical and cinematic projects.
As part of the group θΘ (thetaTHETA) the three artists have created the theatre performances "Francis Bacon Project" presented at the UKYA festival in Nottingham, "Project Bacchae" presented in Thessaloniki, Athens, Crete and Elefsina and "Moth" presented at the Michael Cacoyannis Foundation.
2021 Residencies Announced
25th January 2021
The Creative EU-funded project ISLAND CONNECT will support 8 Performing Arts projects from Croatia, Denmark, Ireland, Greece and Spain in 2021. This support will be dispersed via granting residencies and a "SpringLab" in Limerick including different Capacity Building Workshops. ISLAND CONNECT's goal is to support and assist artistic creation and the mobility of artists. The 2021 call for residencies received 81 applications.
The 8 selected companies are:
Kathleen Doherty and Alexandre Duarte

(IR) – residency at BIRCA (Bornholm, Denmark)

Christopher McAuley and Emmen Donnelly

(IR) – residency in Cres (Croatia)

The Amazing other (DK) – residency in IACC (Limerick, Ireland)

Eirini Tiniakou and Zoi Mastrotheodorou

(GR) – residency at BIRCA (Bornholm, Denmark)

Konstantinos Pavlidis (GR) – residency at C.IN.E. Sineu (Majorca, Spain)

Nikolina Komljenović and Irma Unusic

(CR)– residency at C.IN.E. Sineu, (Majorca, Spain)

teatreBLAU (SP) – residency in Cres (Croatia)
La ContraPiel Teatro (SP) – residency in Naxos (Greece)
The 8 companies will develop their projects during a 2-weeks residency in their own country and a second 2-weeks residency in the partner country, fights & coaching/mentorship included. The supported artists distinguish themselves by the richness and originality of their artistic approaches, as well as their aim to experiment.
Furthermore, the program will support this year 2 more projects in the framework of the Islander Focus productions, aimed at more established artists that have already been researching specificities of the insularity conditions. In 2021, a Danish company will travel to Majorca and Greece and a Croatian company will create in Ireland and Denmark. Both will benefit from and a final presentation of their work abroad.
The ISLAND CONNECT program not only supports new emerging companies of the 5 countries, but it also encourages artists' interaction with the island area and community. Specific community members are contacted to spend a day with the artist on an island field-trip exchanging experiences, practices and reflections. Other public activities are artists' work-in-progress presentations organised at the end of each residency and presentations of finished works of selected artistic companies in partners festivals. All presentations are followed by an artist-audience feedback session.
Download the press release PDF here.