Kathleen Doherty and Alexandre Duarte have been selected as the Irish artists heading to Birca in Denmark. They will be working on their show "Martyr".
Female-driven, emotionally charged, visually captivating. Martyr is a direct and threatening view into the human psyche.

From the raw realness of the female form, bound and trapped in a repetitive loop, to the chaotic movements of a soul driven mad. Heavily littered with esoteric and occult symbolism. This work is a daring use of body and props.
Martyr is a work in progress by Alexandre Duarte and Kathleen Doherty, it is multi-disciplinary, blending dance, physical theatre, butoh and the aerial arts. Combining innovative rigging and atmospheric design with Shibari, ladders, moveable lights and a chair. We invite you to enter what may be experienced as a nightmare that hints at current events and darker political agendas.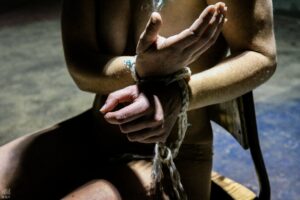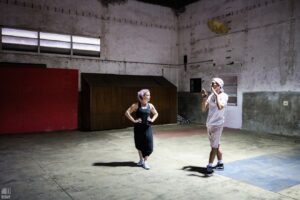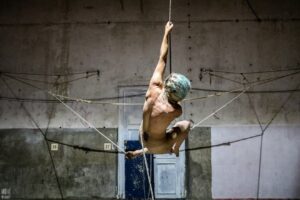 Kathleen Doherty
Kathleen trained from a young age in ballet, making a smooth transition into contemporary dance and then aerial, she has toured extensively; Korea, Hong Kong, Europe and the USA with various companies including Dance Theatre of Ireland and Fidget Feet Aerial Dance Company.
Her own work: "Chasing Shadows", "Longing, Here" and "Pandora" have been shown across the Europe in various festivals and theatres including Trengo and Fara (PT), Pitch'd Arts Circus festival and the Irish Aerial Dance Festival (IRE), Cirque du sZiget (HU), Derida Dance (BG), The Place and Dance Space (UK).
As co-creator, mentor and director, she worked in sell out shows for the Paper Dolls, Guinness Storehouse and Alexandre Duarte's "The Newspaper Man". She has mentored artists from all around the world including Rachel Strickland, Arlene Caffrey and Jen Crane from "Cirque Physio".
Alexandre Duarte
Alexandre is a gender-fluid multi-disciplinary artist from Portugal, currently based in Italy. He regularly performs, creates and coaches across Europe, having toured internationally with his own projects and external companies.
He studied gymnastics, dance and the aerial-arts, gaining spots in both Ginasiano Dance School, Portugal and Codarts Hogeschool Voor de Kunsten, The Netherlands. Alexandre has over a decade of experience in the performing arts with companies such as Companhia Instável, Teatro da Didascália, Cirko Vertigo, Compagnia Sarabanda and SONICS etc.
Currently working for Compagnia Blucinque and Fondazione Cirko Vertigo in Italy. He also divides his time on his own productions and shows; melding dance, circus, dance theatre and butoh with site specific and theatre based performances. In the recent years, he toured in different theatres and festivals between Portugal, Ireland and Italy with his most recent work "The Newspaper Man", which has been extremely well received by both critics and audiences alike.